to

Fox Cubs
Hello and welcome to our special page for Nursery, now known as the 'Fox Cubs' class! The place where children have lots of fun learning through play!
In Nursery Mrs Willis is the class teacher and Mrs Tomlinson is the Early Years Practitioner.
We want your child to be happy and to enjoy learning so if you have any questions or concerns please come and see us!
Mrs Willis
Nursery Teacher

Mrs Tomlinson
Early Year's Practitioner
This half term our topic is
'Special Times!'
Here are some ideas to start with and we will continue to add to them as we go through the half term! We also follow the principles of 'planning in the moment' which means that the children guide our learning following their interests and so every day is full of surprises!!
Autumn 2 - Week 1
Rocket
Why do we celebrate Bonfire night? How do we celebrate? How do we stay safe?
For the first week of the half term we are going to be thinking about Bonfire Night and how we can keep ourselves safe. We are going to make rockets out of different materials and finish the week by making edible fireworks- yummy!!
Autumn 2 - Week 2
Diwali
What is Diwali? How is it celebrated? Who are Rama and Sita?
Who are Rama and Sita?
This week we will be learning about the festival of Diwali. We will learn about who celebrates it and how it is celebrated. In maths we will be looking at Rangoli patterns and we will be trying to dance to Indian music during our physical development time.
During this week there will be an opportunity to talk about your child at Parent's evening.
Autumn 2- Week 3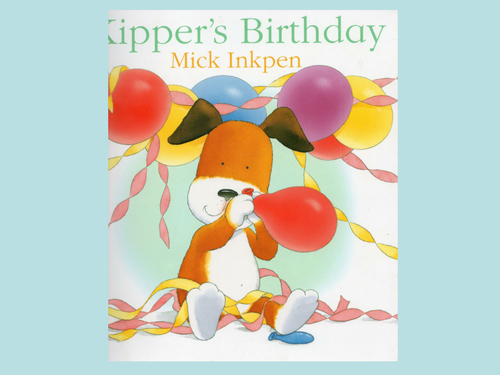 Kipper's Birthday
When is our birthday? How do we celebrate our birthday? What has been our favourite present?
This week we will be finding out which month our birthday is and making biscuits and decorations for Teddy's birthday party on the Friday.
We will be dressing up on Friday in support of Children in Need - more details later.
Autumn 2 - Week 4
The Wedding
What is marriage? Where can we get married? What happens in a wedding ceremony? What do we wear to a wedding? What do we do at a wedding?
This week we will be learning about the traditions associated with a wedding. We will be dressing up, weighing out ingredients for a wedding cake and role playing our own wedding ceremony.
Autumn 2 - Week 5
Sammy Spider's first Hanukkah
What is Hanukkah? How many nights does it last? What toy do the children play with?
This week we are learning about the festival of Hanukkah. We will be learning about how the festival is celebrated and making a Star of David sun-catcher.
Autumn 2 - Week 6
The Jolly Christmas Postman
Who delivers the post? What does a letter look like?
Where do I buy a stamp from?
This week we will be listening to the story of the Jolly Postman and we will be pretending that we are working in a post office and delivering letters and parcels.
This will be a busy week as we invite grown-ups to come and watch us perform our Christmas concert.
Autumn 2 - Week 7
The story of Christmas
What happens at Christmas? What do we use to decorate our homes and school? What happened in the story of Christmas? What would we like for Christmas?
This week we are going to be as busy as the Christmas elves making surprises for you all for Christmas. We will be retelling the Christmas story in lots of different ways.
Autumn 2 - Week 8
The Christmas Bear
Who will come to visit our house at Christmas? What would we like for Christmas?
In the final week of the half term we will still be busy making surprises for Christmas and also inviting you all to come and join us for a Stay and Play session, to experience the fun we have at Nursery!
We are going to finish the half term with a party and a special visitor!!
Topic Web
To see the full topic web for this half term please click on the link below
Nursery Autumn 1-I am special! 2017
Nursery Dates
Here are the dates we have so far for this half term. We will continue to add to them as the half term progresses. Also remember to check your weekly newsletter!
Tuesday 5th December – Christmas Fair
Thursday 7th December – Nursery concert
Wednesday 20th December -Nursery Stay and Play session 10.30a.m. to 11.45a.m.
Friday 22nd December – Last day of half term and Christmas party.
Friday 5th January 2018 - INSET day. School closed to the children
Monday 8th January 2018 - First day back!
The Early Years Foundation Stage
In Nursery we follow the Early Years Foundation Stage which is organised into seven areas of learning. These seven areas are as follows:
PSED - Personal, social, emotional development (developing self confidence and self awareness, making relationships as well as managing behaviour and feelings).
CL - Communication and Language (speaking, listening and understanding)
PD - Physical development (moving and handling as well as health and self care)
LIT - Literacy (reading and writing)
MATHS - Mathematics (numbers, shape, space and measures)
UW - Understanding the World (people and communities, the world and technology)
EAD - Expressive Arts and Design (exploring and using media and materials as well as being imaginative!)
Nursery newsletters
We have a weekly newsletter which will keep everyone informed about what we are doing and what we will be learning about in the future. The newsletter will come home every Friday but we will also put a copy here on our web page.
Parent Partnership
We believe in having a good partnership with parents and carers. Together we can help your child to become a happy and successful learner!
Topic Challenges
Challenges for your child to work on with you over the half term:
1 – Make a firework rocket out of junk materials.
2- Practise counting to 10 and recognising numerals.
2– Bring in a photograph showing how you celebrate a birthday, wedding or Christmas. (name on back).
3-week beginning 11th December bring in your favourite Christmas story/book for us to read as a class.
Learning journeys
During the last few years we have developed the way that we collect observations about what your child can do during their time in Nursery. From September we are going to use an app called 'Early Excellence' on our ipads. We will take photographs of your child completing different activities and make notes about what they are doing. One of the best features of this is that we can email you all the evidence we collect! Please make sure we have your email address and we will send you all of our observations! Don't forget to reply and let us know of any 'wow' moments you witness at home. Please see Mrs Willis for an email request form if you have not completed this in your new starters pack or you can download one by clicking on the link below.
Early Excellence consent form - September 2017
Have a question or concern?
We understand that there are times when you might have a question or concern! We have an open door policy in our school and you are always welcome to come and speak to any member of staff. Alternatively you can ring school on 01773 712840 or email me at jwillis2@ coppice.derbyshire.sch.uk and we will do all we can to help.
Our Nursery
Here is our latest Nursery booklet which contains all the information about our Nursery
Welcome to Coppice Nursery School booklet 2017
School readiness
Over the year we will be preparing your child for their start in Reception. Is your child ready to start Reception? The following are some of the skills that your child is expected to be able to do as they begin their journey into Reception but remember we have a whole year to prepare them.
Is your child ready for Reception?
Stay and Play sessions
Stay and Play sessions
Each term we have a stay and play session so parents, carers and other family member can join us in Nursery to see what we do. The children love showing everyone their classroom and the type of activities we do every day in Nursery. We always end with an activity for both children and adults. This could be a story, a squiggle, a dough disco or a dance! Who knows!! We like to keep it a surprise!!
Our next stay and play session will be on Wednesday 20th December at 10.30 to 11.45 a.m. We hope you can join us!
Helping at home!

There are lots of things you can do to help your child. Below are some ideas of what you can do which are quick and easy and will help your child consolidate skills we have taught in school. If you would like any help or support please ask any member of EYFS staff. We would be more than happy to help with ideas!
Letters and Sounds
We are starting to look at Phase 1 of Letters and Sounds. This booklet will help you understand how we are teaching your child in nursery.
Letters and Sounds phase 1 parent information leaflet
Some children will move onto Phase 2 during the year-
Letters and Sounds Phase 2 parent information leaflet
Reading
Spend time sharing lots of books together. Practise holding the books the correct way round and turning the pages in order. Encourage your child to talk about the pictures and to support them in making their own stories using the pictures.
Writing
At this stage the children will be making lots of marks using a range of writing tools such as felt tips, pens and paint. Encourage your child to talk about what their marks mean. As your child becomes more confident in holding writing tools support them in writing their names on invitations and cards.
By the end of nursery your child is expected to be able to say a sentence with 5 to 8 words in it and hold a pencil using a 'tripod' grip.
Nursery Literacy non-negotiables
Mathematics
Play board games such as 'snakes and ladders' to encourage your child to count spaces to move their counters forwards or backward. When you are walking as the children to count how many foot steps from one place to another and ask the children to identify different numbers they see on doors or buses.
By the end of nursery your child is expected to be able to recite numbers to 10, recognise numerals 1 to 5, count 3 to 4 objects and make marks to represent their counting.
Nursery Numeracy non-negotiables
Life skills
Encourage your child to put on and fasten their own coat, to put on their own shoes and to get dressed and undress by themselves. Remind them to wash their hands after going to the toilet and before eating a meal. When eating encourage your child to use a knife and fork correctly.