Welcome to The Owls Class Page
(formerly Year 4)
Owls are known for their wisdom so
our motto is:
Sapientes nos sumus
Mrs Rigden - Class Teacher
Mrs Hussain Mrs Clarke
Our Teaching Assistants
Letter to parents Spring 1
Homework Spring 1
Welcome Leaflet September 2019
Spring Term
To see a topic overview click on the title below:
Invaders and Settlers
Week 1 - Why did the Scots, Picts and Franks invade Britain? c 360AD
Why did the Romans leave? c 407AD
This term we are going to be learning about Invaders and Settlers and carrying on the story of the history of the British Isles. We are building up a picture of the chronology of the history and thinking about why things happened. We are looking at historical records, where they exist, and trying to understand the events that happened and the consequences of the events. Was the invasion by the Scots, Picts and Franks a cause of the Romans leaving Britain or were other things happening in the world at that time?
Weeks 2 - What was life like in Britain during this time?
This week we are going to try to imagine what it was like for ordinary people when all these events happened. What did the invaders think? How did the people already settled deal with them? How did they feel? What were the motives of the invaders? Through drama we are going to try to understand how the events of history affected people.
Week 3 - Who were Hengist and Horsa? Why did they come to Britain? c 450AD
With the story of Hengist and Horsa, we will build up more of a picture of the history of this time. These brothers came to Britain to help out. How can we piece together the facts about them from different sources? Can we be sure that the records are accurate? We will look at the writings available and consider who wrote them, and when, to come to some conclusions about their story.
Week 4 - Who were the Anglo-Saxons? What did they believe?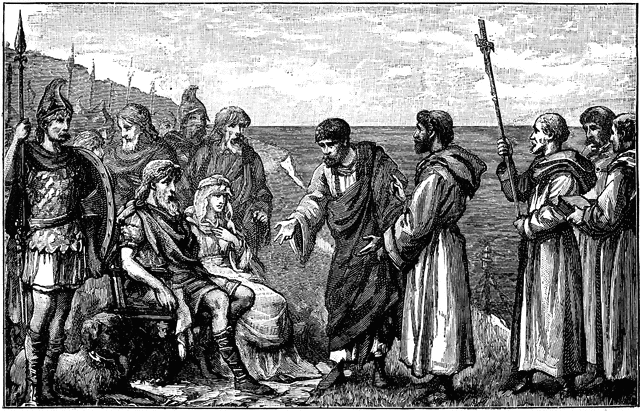 The lives of the Anglo-Saxons changed once they settled into this country and this happened over time. One of the momentous changes was with the introduction of Christianity to Britain. This happened over time but in c 597AD there was a visit from St. Augustine who converted Aethelbert of Kent who became the first Anglo-Saxon king to become a Christian. In response to this the king gave the church land at Canterbury to build a church. This change from the old religions to Christianity was a big step in the history of this country. It shows the impact of different people from history and how their decisions came by engaging with the wider world. It further shows the effect of one person's actions on the lives of generations.
Week 5 - Where did the Vikings come from and how did they live? #c 780s AD
The Vikings were a people who lived on the continent of Europe. This week we are going to look at these fascinating people and how they lived their lives. We will research information about where and how they lived. What were their houses like? What food did they eat? What did they wear? What does their way of life remind us of in history we already know? We will write a report about our findings and think about the connections with the past.
Week 6 Why did the Vikings send raids into Britain?
The first recorded raid on Britain by the Vikings was in c. 789AD, followed by further raids at Lindisfarne in c. 793AD and Iona in c. 795AD. Why did this occur? What made people come across the North Sea in wooden boats?
What did they want? We will think about the impact on these communities and others. How did it change people in Britain?
Week 7 - How were the Kingdoms of Wessex (c 829AD) and Scotland
(c 843AD) established?
During this week we will consider how the many tribes and peoples who lived in Britain were brought together into Kingdoms. We will research how the Picts and Scotti peoples became the Kingdom of Scotland. We will also look at how the Kingdom of Wessex grew and expanded. We will think about the information we have and work out the answers to some of our questions about this process.
Week 8 - What happened when the Vikings tried to take over the whole of Britain including the Kingdom of Wessex?
c 878AD
It is clear from what we have learned so far that the course of history is not always clear and straight forward. Once the Vikings started to settle and take over land it was clear that conflict would follow. Alfred the Great fought against this and even gave the Vikings money to keep them from attacking (Danegeld) but the attacks continued. At one point Alfred had to hide away in the marshes of Somerset where he thought of plans on how to raise an army and resist the invaders. This episode has an interesting story about 'Alfred and the cakes', and how a lady, who took Alfred into her home, not knowing who he was, told him off when he let the cakes burn! He had been too busy planning an attack to take notice of the cooking.
Week 9 - Why was the Danelaw established? c 886AD?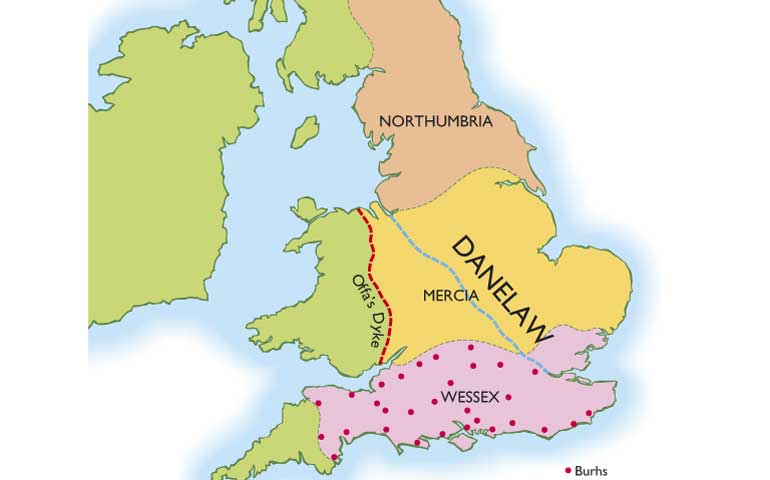 Alfred came out of hiding and started his resistance to the Vikings under the leadership of Guthrum. Alfred led the fight back and after many battles Alfred finally gained the upper hand over Guthrum. When the Danelaw was set up Guthrum agreed to allow all the people there to follow both Danish and English laws. Alfred made the agreement and gave Guthrum land (the Danelaw) in the hope of stopping the fighting. Do you think this peace lasted? We will think about how the history of this time has been written down and think about the people who wrote it. What might be the outcome of this peace agreement?
Week

10

- Who was the first King of the English?
We continue the story of the conflicts between invaders and settlers this week with the story of Alfred the Great's son and grandson. Gradually over time Edward, Alfred's son and Athelstan, Alfred's grandson took over more and more of the land. Eventually, Athelstan fought the Battle of Bruanburh in c 937AD. It was a close fought battle but Athelstan won and this victory was so great that he claimed to be King of the English because he had defeated, or made agreements with, all the Kings in the land. He had not only never lost in battle he had also united all seven kingdoms (Heptarchy).
Week

11

-

What was life like for Anglo-Saxons?
This week we are going to consider what life was like for Anglo-Saxons. Was it the same as for the Vikings that we have already learned about? What were their houses like? What did they eat? What did they wear? What types of weapons did they have? Did they go to school? What were their laws like?
Week

12

-

Who was King Canute (Cnut) and what was his most famous moment? ( c. 1016AD)
Kings continued to reign over the English but they weren't all from England. King Canute came from Denmark. He was a Christian. There is a strange story about him which can be looked at in different ways. One day, so the story goes, he asked for his throne to be put on the beach as the tide came in. He then commanded the sea to stop coming in and making him wet. Was he mad? or was he trying to show his people something else? This week we will consider this story. Who wrote it down? What was the purpose of the story? We will research and try to get to the truth of this strange episode.
Week

13

-

Who was Edward the Confessor and why was he important in English history? (c.1042AD - 1066AD)
We are coming towards the end of the Anglo-Saxon history and this week we will be looking at one of the last of their Kings. What can we find out about Edward the Confessor? What were his greatest achievements? What were the problems in his reign? What happened because of some of the decisions he made?
Week

14

-

What is the legacy of the Invaders and Settlers of the Anglo-Saxon times?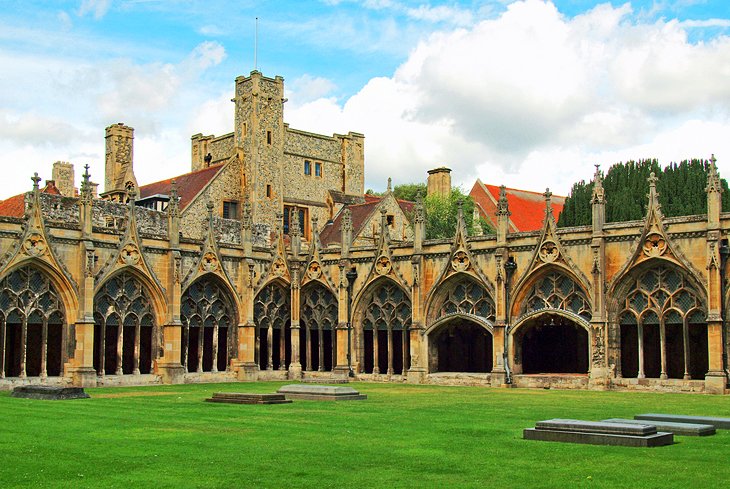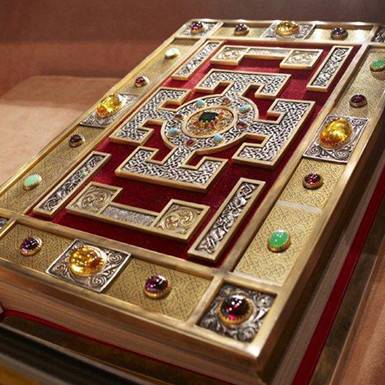 This lesson will be about what impact the events of the Vikings and Anglo-Saxons times have on us today. We will re-visit the events in chronological order and think about how life in Britain would have been different if any of the events had not happened. We will debate our ideas and come to some conclusions about the way people and events have had a lasting effect on future generations.
Literacy
In Year 4 we will continue to develop the skills of comprehension by reading individually, in groups and as a whole class. It is important that, when reading, the children understand the words they are reading and have the ability to check the meaning of words when they are not sure. We are focusing particularly on answering more difficult comprehension questions when reading so that the children build up their deductive skills and have more of an understanding of what the text is telling them.
The children will build on their previous knowledge of Grammar, Punctuation and Spelling to improve their speaking, reading and writing skills. We will focus on different types of sentences and the associated punctuation. We will build on our knowledge of homophones so that we choose the right ones in our work.
In writing we will be also be building on our previous learning. This term we will be focusing on Poetry, novels, information booklets, Newspaper reports and longer pieces of narrative with a Viking and Anglo-Saxon theme.
Numeracy
Numeracy is a very important part of the curriculum and this term we will be looking continue to build our skills in number and place value.
This term we will be looking at Number and place value, addition and subtraction, length, multiplication and division, time, fractions and 3D shapes.
We will continue have a strong focus on learning our table facts and there will be a number of facts to learn each week. We have had some success over the Autumn Term but now we need to speed up our memories to recall more rapidly. We hope that you will encourage your children to learn these facts so they are able to recall them quickly. This will help with many different areas of maths including multiplication and division.
Information for parents- http://www.croft.notts.sch.uk/Numeracy%20Targets%20Year%203.htm
Games - http://bbc.co.uk/schools/4_11/numeracy.shtml
http://resources.woodlands-junior.kent.sch.uk/maths/timestable/interactive.htm
If all parents could encourage their children to learn and practice all the tables up to 12x tables that would be very useful too!
This site may help with that:
P.E. for Year 4 this half term is Monday and Wednesday. Please ensure that your child has their P.E. kit in school at all times. Please also make sure that all items are clearly marked with your child's name. We will be going swimming every Monday from the 13th January. Please make sure that your child has their swimming kit in school on this day each week.
Science
Spring 1
Name that living thing!
(Living Things and their Habitats)
In Science, in Spring 1 , we will be learning about electricity. We will
recognise that living things can be grouped in a variety of ways
explore and use classification keys, identify and name a variety of living things in their local and wider environment.
recognise that environments can change and that this can sometimes pose dangers to living things.
Spring 2
Excuse me are these your teeth?
(Animals, including humans)
In Science, in Spring 2 , we will be learning about Excuse me are these your teeth? (Animals including humans)
We will
describe the simple functions of the basic parts of the digestive system in humans
identify the different types of teeth in humans and their simple functions
construct and interpret a variety of food chains. Identifying producers, predators and prey.
R.E.
Our main objective for Spring 1, is to consider this question 'Can the Buddha's teachings make the world a better place?'
In Spring 2 we will look at the theme of Easter and think about this question - 'Is forgiveness always possible for Christians?'
Homework Schedule
Topic:
Learning log tasks are set at the beginning of a topic to be completed over the half term. The children will have the whole half term to complete their chosen tasks. We will make sure you have the date for the homework to be returned. We hope that you enjoy the range of tasks that we have set for you!
Spellings:
Children will be given spellings on Friday and tested on the following Friday giving you a whole week to practice before the test! Spending just 5 minutes a day on learning spellings does make a big impact on the words you can spell correctly. This helps the children in their writing to be more adventurous in their choice of words. Each child will have 10 spellings to learn each week. The expectation is that they will all achieve at least 8/10 every week.
Numeracy :
Numeracy homework will be set on a Friday and should be completed by the following Friday. The homework will be in two parts - general Maths homework covering the different areas of Maths each week and learning tables homework. There will be a times table test each week for the table facts sent home each Friday. Our aim is to know all the times tables up to 12 x 12 by the end year 4.
Reading:
Reading as much as possible will really help your child's progress at school. For their learning passport they must have read three times a week all term. It is very important that they understand what they are reading a few minutes spent asking questions about what has been read helps children to develop comprehension skills which are vital to their education. In addition to the home reading book, children will also be allocated reading and Spelling Punctuation and Grammar homework via Bug Club your child's username is the first four letters of their first name and the first four letters of their surname. The password is year4.
Ambassador Awards 2019-2020
This year we have incorporated the Learning Passport within a document that recognises children's achievements in school and the wider community. What is expected in order for children to achieve their 'Ambassador Award' comes under 4 headings:
Citizenship

Relationships

Learning

Behaviour and conduct
Each section has elements that underpin the values that as a school we hold dear. We believe that learning is something that continues every minute of the waking day and it is important to recognise children's achievements not only in lessons but beyond. Adults in school will discuss each section with the children and how they can meet the criteria identified; we are hoping that the children will be able to take some ownership of the passport themselves!
Have a look at the Ambassador leaflet to find out more and look through 'Steps to Success' passport the Owls children will be working through this year to help them achieve their Ambassador Awards!
Monday 6th January 2020 - Back to school for the children.
Friday 10th January - Young Voices concert with the choir.
Tuesday 4th February - Internet Safety day!
Tuesday 4th February - Class Church Assembly with Steve
Tuesday 11th February - Fire safety talk
Thursday 13th February – Ambassador assembly
Friday 14th February – Last day of term.
Monday 24th February - INSET DAY - School closed to the children.
Tuesday 25th February - Back to school for the children.
Tuesday 24th March - Class Church Assembly with Steve